Early treatment (ages 4 to 9) is an effective way to address crowding, crossbite, severe overbites and overjet, close an open bite and help break oral habits. Many children that are treated at this early age eliminate the need for full treatment as a teen or lessen the problems to short, detail-oriented treatment. This can save money in the long run. Invisalign or other alignment retainers can sometimes be used as a teen to detail minor residual problems.
The focus for children is getting the bones in the correct relationship to one another and to the face of the growing child. Often times, it is the bones, not the teeth that are the culprit in causing crowding or overjet/overbites.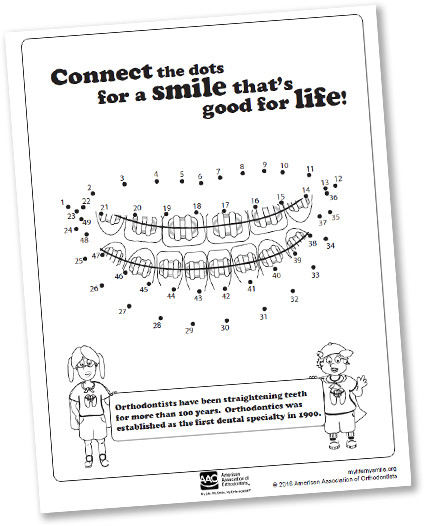 Children's Activity Sheets
Crossbite (anterior or posterior) can lead to shifting of the jaw while closing or eating. This can lead to skeletal asymmetries or altered development of the TMJ's. These should be treated as soon as the child can be worked on to encourage normal growth and development. Dr. Murphy agrees with the American Association of Orthodontists' view of having your child screened by age 7. More severe problems should be screened when the child can be examined and worked on without the need for gas or drugs. This can be as early as age three.
An orthodontic evaluation does not require a referral from your dentist as in the medical field.