Much of our practice today involves treating adults. The perception of orthodontics being 'just for kids' has not been true for the past forty or more years. People who should have been treated as children, and for different reasons were not, make up the majority of our adult patients. Others who have had treatment as a child but have experienced some movement through the years make up another large segment of our patients. Many of these patients can be treated quickly and the correction not only allows them to enjoy their smile again, but prevents further deterioration. The remaining group of adults frequently involve treatment before crown or bridge/implant procedures or to stabilize a dysfunctional TMJ.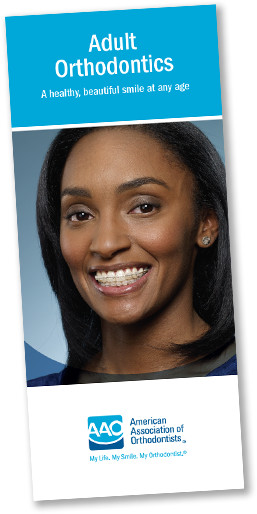 Adult Orthodontics Pamphlet
Clear esthetic braces, Invisalign, small bonded brackets or even a combination of these are utilized. Fixed lingual retainers and clear retainers help to hold the correction.
Your own natural teeth are viewed to last your entire lifetime today. Gone are the days of dentures at age 40 or 50. Your teeth need to look good and function properly. Straight teeth ensure healthy periodontal and TMJ support.